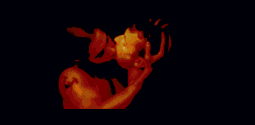 Recognized for his depiction of Southern culture, Tag Purvis moves beyond the borders of the Deep South with his latest short film, "America the Beautiful," by piercing directly into the core of the American heartland with his depiction of homosexual love. This passionate masculine embrace, set to a recording of "God Bless America" by award-winning songwriter Jodi Horovitz and the Miami-based group "Sister Madly," challenges the continued prevalence of homophobia by addressing the very foundation of dominant heterosexual American culture. And while serving as social critique,"America the Beautiful" also embodies the strength and grace of a marginalized subculture which has succeeded in forming its own collective identity despite being denied equal access to our most basic rights. Through this inspiring expression of intimacy, "America the Beautiful" offers a call to gay and lesbian Americans to appropriate the all-inclusive claims of citizenship.



Screenings & Festivals





"America The Beautiful" is included in the "Southern Stories" video set. Visit our shop for details.